For The Video Log, Scroll Down
Hello and Welcome To The Basement… and this weeks installment of Yay or Nay for the Hall of Fame…
This week's subject is someone whose done it all… he was a referee, wrestler and a promoter… in fact he's still the later two, but it's clear that he'll have fewer days in the ring in the coming years… he's worked in nearly every major promotion in the United States, including some territories before they closed up… and captured quite a bit of gold….
I'm talking about the man from Hendersonville, Tenneessee…. J-E-Double F, J-A-Double-R, E-Double-T… Double J… Jeff Jarrett… Ain't He Great?
Yeah if probably will come as no surprises that the first time I saw Jarrett perform was under the singing cowboy gimmick in the WWF in the mid 1990s, but as I said just a few moments ago, he did work in some of the big territories of pro wrestling, getting his break in his father's, Jerry Jarrett's Continental Wrestling Association and even having matches with Verne Gagne's American Wrestling Association, The Von Erich's World Class Wrestling Association… and when those two companies merged, the United States Wrestling Association. I will admit, I am unfamiliar with a lot of this period of Jarrett's history, but looking at match results, cards and title history, it's clear he was one of the last 'regional stars' to make the leap the national level.
Jarrett's time in the WWE began in towards the end of 1993, getting a number of vignettes talking about how he's going to use the then WWF to launch his singing career, but the thing about those vignettes was despite him playing an over the top character, we got to see a lot of important musical landmarks down in Tennessee, such as Sun Studios and the Grand Old Opry, getting a bit of a musical history that gave a bit of credibility to his persona. His first tenure in the WWF was high-lighted with a win over Mable at SummerSlam '94, winning the Intercontinental title at the 1995 Royal Rumble and perfectly lip syncing 'With My Baby Tonight' at the second In Your House pay-per-view special. For some reason Jarrett disappeared from WWF TV for most of the second half of 1995, made a brief return and then left for WCW.
Double J's time in WCW got off to a hot start in the fall of 1996, being a 'free agent' with no affiliation to any group, he got a storyline of being allied with and becoming apart of the Four Horsemen Stable, mainly because Horsemen Valet Debra McMichael wanted him in the group much to the annoyance of her husband Steve 'Mongo' McMichael. A lot of folks took and still take issue with Jarrett's run with the Four Horsemen… said people are ones who applaud the choice of Paul Roma being a Horseman… I personally had no issue with it, because Arn Anderson was basically inactive, Ric Flair was shelf, Mongo was green as grass but popular and Benoit was… the vanilla guy… and there was a lot of bickering with the valets, Benoit's Woman and McMichael's Debra, so adding Jarrett an outsider made the Horsemen promo segments rather interesting to watch. Beyond it Jarrett won the United States Championship before leaving the group which he later dropped to Mongo.
Jarrett jumped back to the WWF… and giving a memorable promo, shooting his mouth off about both the heads of WCW and the WWF… and rightfully pointing out how stupid the Austin 3:16 shirts was… which lead to Steve Austin crying for years about it… Anyway brief feud with the Undertaker was followed by Jarrett joining the NWA stable being lead by Jim Cornette. The NWA Stable was presented as villians wanting to bring back the traditions and seriousness of pro-wrestling to the WWF which was getting more 'Attitude'… and was basically a reverse of the NWO, which was counter-culture wanting to ruin traditional wrestling… personally I think the WWE Would've been better off if they went the traditional route instead of the Attitude one because a lot of their current problems would've been avoided.
But I digress, Jarrett would capture the NWA North American Heavyweight title, before reverting back to his earlier singing character for a portion of 1998, which was a bit.. awkward with the direction the WWF was going in. However a loss in a hair-vs-hair match at SummerSlam 1998 and being reunited with Debra from WCW, saw Jarrett's career kicked into high-gear, capturing the Tag Team titles with Owen Hart along with the Intercontinental and European titles throughout 1999. However… an oversight by an Oklahoman lead to Jarrett's contract elapsing and him departing back to WCW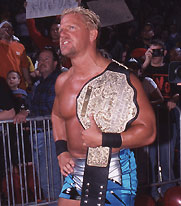 Up to this point Jarrett's career was outstanding… but the WCW run was a bit… horrific… yes he won the United States and WCW World Titles multiple times… but because of the lack of creative oversight , injuries to folks like Goldberg, Kevin Nash and Bret Hart, the departures of The Radicalz lead to a lot of damage being done to Jarrett's career as all of sudden he was the biggest name on the roster that was healthy. Hell the rather idiotic line by known Hulk Hogan kiss up Mike Graham saying 'he broke 6,000 guitars, never drew a time' became unfairly associated with Jarrett thanks heavily to the WWE's propaganda DVD 'The Rise and Fall of WCW'.
Following the purchase of WCW, Jarrett hit the international circuit, working for the World Wrestling All-Stars promotion with shows in Australia and Europe before forming TNA Wrestling with his father in 2002
As an owner and obvious top star, Jarrett did receive some unfair criticism for always being in the hunt for or being the NWA Champiion during TNA's early years, but I don't have an issue with that, it's no different than Verne Gagne being the AWA Champion as many times as he was, because when you own the company and are an active wrestler, you know you have one person you can count on. TNA Unfortunately hit a financial snag in its early days… which lead to Panda Energy purchasing controlling interest in the company… which saw him losing a lot of power as the years passed, which reflected in the quality of TNA's television product driving a lot of wrestling fans to fits of rage.
He would over see the short lived Ring Ka King in India, TNA's attempt to launch a smaller promotion in India, worked for AAA down in Mexico, and even attempted to buy his own company back, but some rather idiotic demands by those who run Panda Energy, lead to Jarrett just wash his hands of it and form Global Force Wrestling.
So… a lot of history as far as Jeff Jarrett is concerned…. So let's break this down….
The case for Jeff Jarrett going into the WWE Hall of Fame is very solid, he's the last of the territory stars to break out on the national and global levels, he's held a lot of championships, and done a lot for wrestling with forming TNA and Global Force Wrestling, he's had memorable persona, matches and storyline… and the fact that he buried the Austin 3:16 nonsense which still pisses Steve Austin off to this day are all indications that he's a Hall of Famer by any stretch of the imagination
So the verdict is this… I say he should go into the Hall of Fame. it may not be next year, or five years from now, but I expect Jeff Jarrett to be put in the WWE Hall of Fame at some point
Next Week… the case of Cyndi Lauper, yes as in Girls Just Wanna Have Fun and She Bop, will be presented! Catch ya then.