TEXT VERSION / NOTES
From Legends to Gotham.... Talking about it all this week!
This Week With The SuperHeroes - April 15, 2016
Hello and Welcome to the Basement... and Of course it's Friday, it's time for This Week With The Superheroes...We got a lot to go over this week so let's get to the NEWS
According to various sites, the new
Star Trek
series that is to be exclusive to CBS All Access in January is set to be set between Star Trek VI: The Undiscovered Country but before Star Trek The Next Generation.... and I'm cool with this... because in-cannon, the only glimpses we've really seen were Yesterday's Enterprise, Tapestry and the opening of Star Trek: Generations of events taking place. Also, this also means it will have NOTHING TO DO WITH JJ ABRAMS! YES! YES! YES! YES!
Ahem...
This is gonna be awesome!
The new
Suicide Squad
trailer dropped this week, and it looks a lot of fun... though I have to wonder what sorta of fun Jared Leto was up to when he sent certain items to his co-stars... sure he's playing the Joker... but... yeah... dude's a bit weird...
'Benedict will you please look at the camera?' 'NO I Will Not!"
Speaking of trailers, the one for
Doctor Strange
certainly looked interesting, and I think Benedict Cumberbatch is going to play the part well... bit I have to wonder when he is going to have a movie poster where he's facing the camera...
At least Hayden Christensen isn't playing him again...
Star Wars Rogue One
has a Doctor Who connection, actor Spencer Wilding is playing the physical body of Darth Vader, and so the presences of the Sith Lord is going to be an inch taller (as Wilding is about an inch taller than David Prowse). Wilding's Doctor Who credits include playing the Minotaur in the God Complex, The Wooden King in The Doctor The Widow and The Wardrobe and as the Ice Warrior Skaldak in Cold War.... and these were all characters that were quite big!
As if this wasn't going to get an R-Rating?
Batman The Killing Joke
got an R-Rating...most people are excited, but I'm looking at it like this... how much of it just a marketing ploy? After all... The Killing Joke is rather infamous for being where The Joker
shoots and paralysis of Barbara 'Batgirl' Gordan... so an R-Rating was a given...
And not once was the fact he was missing an arm brought up...
John Cena's
American Grit
premiered last night, and as someone who had a cup of coffee with the US Army 15 years ago, I think this was a well done show, it certainly puts the four veterans in the forefront, the entire sequence of them picking their 4 person teams and the breakdown was solid. Going through boot, this brought back a couple of memories of things the Drill Sgts were teaching about teamwork, and why they changed the Army's slogan to 'Army of One'. Also, seeing Cena tear apart that jamoke Chris, was great Television.
Anyway... let's get to this weeks shows... and The Flash and Arrow were both on hiatus this week... why? I have no idea...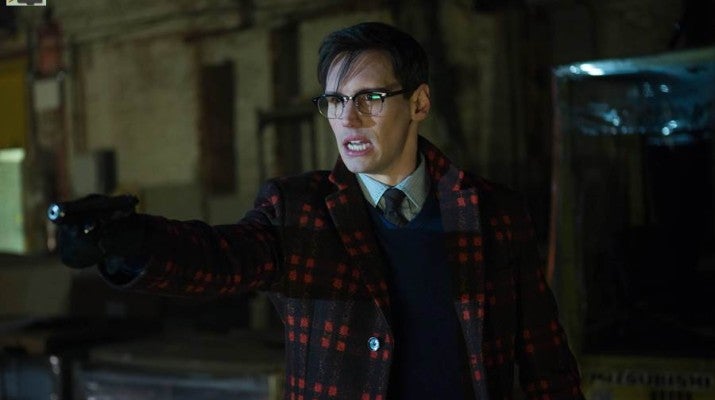 Riddle me this..
Gotham: Wrath of the Villains: Into the Woods
Plot:
Gordon steals his case file in an attempt to clear his name; Penguin discovers a secret about his father's death.
Rating: 4 out of 5
.... Let me say there was nothing 'wrong' with the episode itself, Gordan and Nygma coming to ahead was going to happen, Bruce and Selina having a falling out, with him taking more steps towards being Batman was going to happen... Penguine going off the deep end and taking out the Dahl family was going to happen... but everything somehow felt rush, like we should see these things later
Supergirl - Myriad
Plot
: Kara must free her friend when Non and Indigo implement mind control to turn National City citizens into their own army.
Rating: 4 out of 5
- It's all about setting up the season finale next week kids... Non and Indigo have all of National City under it's control including, Kara has to fight a mind-controlled Alex, J'onn gets taken out by Indigo... what we got in this week's episode was a lot... of talking... and morality issues... but this is all to set up next weeks episode.
One of these days, Ward will be gone from the show...
Agents of Shield: Paradise Lost
Plot
: The team hunts for information on a new enemy; Malick's secret from his past threatens to destroy his Hydra legacy.
Rating: 3 out of 5 -
Another 'meh' episode of Agents of Shield... I like the background we got on Malick...turns out his brother's memories are apart of Hive, who kills Malick's daughter Stephanie because of Malicks actions years earlier, and through a plot convenience most of SHIELD are captured... now where Gotham seems to be going fast, Shield is going slow... but next week we should be seeing the InHumans in action... hopefully...
Finally got to see what Beth was like before her death
Orphan Black - The Collapse Of Nature
Plot
: Sarah's respite in Iceland is ruined by a Neolution attack; when Sarah is forced to flee, she realizes she can never truly escape.
Rating: 5 out of 5 -
Orphan Black rarely if ever disappoints... the problem is that more often than not, things can get rather confusion and I often feel I need a score card to keep track of things, but unlike other shows I can happily get lost, not have a clue what's going on and enjoy Orphan Black. This episode was for the most part focused on Beth and things going to hell for her, as it was like a big flashback which revisited a number of things from season 1. Looking forward to how confusing the remainder of this season will be.
The Atom doesn't stick out at all in the 'Old West'
Legends of Tomorrow - The Magnificent Eight
Plot:
After the team members set a course in the Old West as a place to hide out, they start a fight with a band of outlaws, which puts the small town in jeopardy.
Rating: 5 out of 5
.... They were in the OLD WEST! They got into a bar fight over a card game... meet Jonah Hex (Cause it's DC and you can't do a western without him... it's the law!).... This WAS AWESOME!. Ray Palmer introducing himself as John Wayne and becoming the sheriff of the town of Salvation was laugh out loud hilarious. I do love the sets, they went all out to make a western town. This certainly played a lot into Rip's back story with mistakes he made and Kendra meeting a past version of herself and getting a shock about how here 'life' is supposed to go. Plus the way of working H.G. Wells into the story was really clever. Still this was my favorite show of the week
And that will close things out for this week! Tomorrow is Saturday which mean Doctor Who Tales From The Tardis! Catch ya then!