Hello and Welcome to the Basement,
This is the 'RAW View' for the April 25, 2016 episode of WWE's Monday Night RAW. Tonight was the go-home episode before Payback this Sunday, and 'intrigue' was attempted to be raised on a number of fronts so let's get to things that stood out to me.

First the announcement that Vince McMahon will be making a decision over who is running things on-screen.... if it isn't a brand split or the return of neutral authority figures that try to keep everything fair, then it will be pointless. And don't tell me neutral or baby-face Authority figures don't work, cause they did for the better part of 50 years but they represent the promotion. If the highest on-screen authority figure is a villain then guess how that makes the promotion looks? It makes it look bad, and the WWE has been looking 'bad' for a long time with how it uses the McMahons as VILLAINS instead of folks trying to keep things fair and just within the WWE. Remember perception is reality, and the perception of the McMahons as a whole over the past 20 years has not exactly been positive.
There was an over blown video package for the done to death because the two schumcks can't have a match with anyone else, and I'm talking about Kevin Owens and Sami Zayn. If you're fan of these two, fine, that's great, wonderful... I can't tolerate these two. Sami was moderately interesting if incredibly bland... and I never liked Owens. If you track these two careers, it's an endless cycle of them having matches that as far as I can tell, since 2003, have seen these two as partners or opponents. and it's extremely tiresome at this point, it's not like they have had 'great matches', or in the words of Jim Cornette, matches that drew in folks beyond the hardcore wrestling fans who were coming to shows anyway. And to prove my point: Beyond working with John Cena and having promos that cater to the Spoony's of the world because of being allowed to work with the biggest star in the company, Owens hasn't exactly light the world on the fire since then and he's had plenty of promo time and matches... then their is Sami who going back to the end of 2014 his entire run beyond being injured has been involved with Owens... so that's 14 months of time wasted with these two.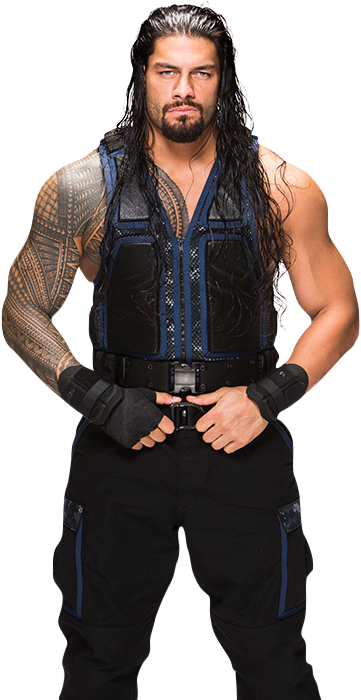 Now lets get to the Roman Reigns vs AJ Styles deal... and we saw Anderson and Gallows defeat and attack The Usos, with Roman coming out and driving them off, followed by Anderson and Gallows go to AJ saying 'See! See! He jumped us!' to add to the speculation that the WWE is going to form the Bullet Club... or rather Balor Club considering the speculation that Finn Balor is getting called up, since thanks to the Quebecer Blubber Boy (that's Kevin Owens) tweeting 'See you soon' considering the speculation on if The Irishman was injured last week. Either way, AJ is too popular to turn heel, Roman is too hated to be kept a babyface, and putting Balor with Anderson and Gallows gives a heel faction that won't draw any heat because they are 'cool', so that leaves the smart thing as I said last week: Put Anderson and Gallows with Reigns, make this all a big set up to build the Roman Empire.
There were a number of promos to hype other things for Payback, New Day hyping the Tag Titles with the Vaudevillians and Enzo & Cass that saw both teams come out and trash talk, with surprisingly no brawling. Ambrose and Jericho had some 'last words' for their pending match... pretty much standard fair. Natalya had a tune-up match with Emma to show that she is ready for ther title match on Sunday while Charlotte was on commentary. The tribute video to Chyna was 'nice', if mellow, showing tweets and highlights of her WWE tenure. Damian Sandow was on RAW... and instead of getting squahed by Baron Corbin, Dolph Ziggler attacked the winner of the Andre The Giant Memoral Battle Royal. I wonder if the Colons promos are sponsored by the Puerto Rico Tourism Board. Maryse and Miz had a segment where they hyped up Miz's match with Cesaro, with Miz calling Maryse the 'Miz Section'... hey it's a good looking section thats for damn sure. Cesaro comes out, Miz does some bad impressions and a scuffle happens. John Cena announced that he will return on Memorial Day... thank goodness..."
One final note... the final three members of the 3 of Nations, Rusev, Del Rio and Sheamus all lost tonight... talk about a stable going out with a whimper.
Anyway on to my Predictions for Payback this Sunday
US Champion Kalisto vs Ryback - Kalisto
WWE Champion Roman Reigns vs AJ Styles - Styles, via DQ
IC Cham The Miz vs Cesaro - Cesaro
Dean Ambrose vs Chris Jericho -Ambrose
Kevin Owens vs Sami Zayn - Owens
Women's Champion Charlotte vs Natalya - Charlotte
Enzo Amore & Colin Cassidy vs The Vaudevillains - The Vaudevillians
Baron Cobin vs Dolph Ziggler - Baron Corbin